Dental Implants in Mississauga
Many patients with tooth loss choose dental implants because structurally, they are most similar to the natural tooth. Although more invasive and costly, by replacing the root of the tooth with a steel post, implants offer long-term stability that can't be matched by other restorations. Over time, this investment can save a patient a great deal of time and money.
The Benefits of Dental Implants
Although having metal posts placed surgically into your jaw isn't the most appealing thought, the idea that you might never need to worry about replacing a restoration again probably is. The main benefit of dental implants is that they offer lifetime durability. After the posts successfully integrate with the jawbone, it becomes a permanent solution.
Some of the other benefits associated with dental implants include:
Convenience and easy care
Cosmetic appeal & customization
Improved speech, eating, and overall self-esteem
Find Out If You Are a Candidate
Dental implants require healthy gums and bones. In order to make sure that it's the best option for you and that you'll get long-term success from your dental implant(s), we provide full assessments of your oral health. Book your appointment today to learn more about dental implants and find out if you are a candidate.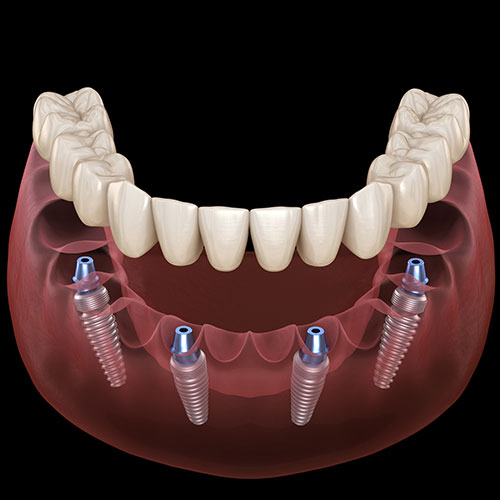 All-on-4 Dental Implants in Mississauga
All-on-4 is a restorative dentistry technique often recommended for patients with full upper or lower arch tooth loss. All-on-4 is also known as full-arch fixed implant bridges. Many patients like the idea of the permanence of the implants, coupled with the affordability of a single, full-arch prosthesis.
Comfortable Full-Arch Rehabilitation
Patients with significant tooth loss are often looking for an "all-in-one solution" for tooth loss, and All-in-4 can provide that. We can replace the upper arch, the lower arch, or both. Many patients find this treatment option more enticing than dentures because of the permanence of the implants and the elimination of issues such as slipping or sore spots.
Fewer Implants, More Restoration, Faster Outcomes
There are many benefits that make an All-on-4 dental procedure a great alternative restoration for some patients. First, all of the teeth can be placed on just four to six dental implants, which translates to a more affordable and less invasive treatment. All-on-4 also provides patients with a reliable restoration right away; instead of waiting months for multiple procedures so that all implants can be placed and healed, the prosthesis can be attached right away.
When Was Your Last Visit?
Book Your Dental Appointment Today