Comprehensive &
New Patient Oral Exam
Oral Exams and New Patient Visits in Mississauga
If you're new to the Mississauga area and you are seeking a new dental office to stay up to date on your oral health, our professionals are here to welcome you. We are an established dental office in the Mississauga community, and we welcome new patients of all ages to our offices. We focus on welcoming new patients to their first visit with friendly service and informative exams.
Your first visit to our offices will take a bit longer than a routine appointment so we can get to know you and your dental health needs. We will conduct an in-depth exam of your teeth and document the state of your current oral health. Our dental professionals may ask you questions about your at-home dental hygiene routine to provide you with information specific to your health. Finally, we will outline and discuss possible treatment options if needed and answer any questions you might have.
After your first visit and thorough oral exam, a continued oral health plan is essential to long-term dental health. We can help you create your personal dental plan with expert advice for at-home teeth cleaning, flossing, and regularly scheduled hygiene appointments. We'll also take the time to arrange any desired appointments for further treatment or procedures, so you can leave feeling confident your health is in good hands.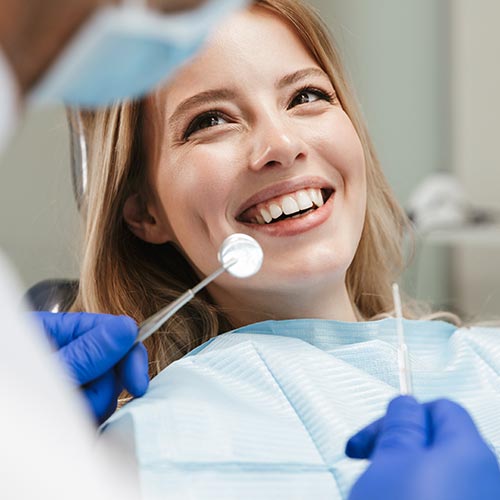 Dental Hygiene Appointments
Dental Hygiene Appointments in Mississauga
Routinely scheduled dental hygiene appointments are fundamental to excellent long-term oral health. Even the best at-home care is sometimes not enough to prevent cavities or other tooth ailments. Our friendly and knowledgeable staff will ensure you leave your appointment with a fresh and clean mouth and all of the tools you need to maintain oral hygiene at home.
The Importance of Good Dental Hygiene
The average person's regular lifestyle leads to plaque and tartar build-up on the teeth. Brushing and flossing daily help to reduce the collection of plaque between the teeth, but at-home tools cannot reach every part of the mouth or deal with hardened substances like plaque, tartar, and calculus. Professional dental tools can reach those difficult spaces and remove hardened substances, which is why routine dental hygiene appointments are a key part of long-term oral health maintenance.
Your Dental Hygiene Appointment
During your dental hygiene appointment, you'll receive professional scaling and polishing from our qualified professionals. We aim to make your mouth look and feel fresh while keeping you comfortable throughout your appointment. We recommend visiting our offices for dental hygiene appointments every six months for effective cavity and tooth decay prevention, but our experienced dental hygienists may recommend a different schedule based on your specific needs.
When Was Your Last Visit?
Book Your Dental Appointment Today