Dental Crowns in Mississauga
Dental Crowns Near You in Mississauga
A dental crown is a natural-looking, custom-fitted cap that fits over your natural tooth, offering strength and protection to the tooth below, as well as a beautiful restoration that blends perfectly into your existing teeth. Dental crowns can be used for many reasons, ranging from strengthening teeth that are cracked or broken to covering a discoloured tooth that stands out in your smile.
Will a Crown Be Noticeable?
Dental crowns are made out of ceramic material that closely resembles the natural colour of teeth. The first step we take is to take a detailed impression of your natural tooth and the teeth and gums surrounding it. Next, we send it off to the dental lab, where they make a custom crown just for your mouth. They consider the shape of your natural tooth and the size of the teeth around it. The lab then creates a ceramic crown measured specifically for you, which resembles a natural tooth's shade. When our experienced dentists prepare your tooth and install your crown, they'll ensure it fits correctly and aligns with your natural bite.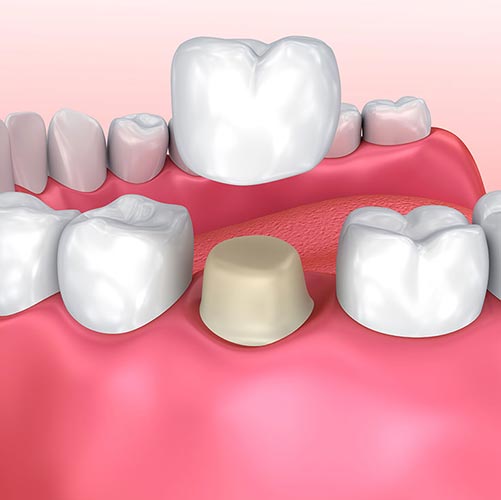 Installing a Dental Crown
Installing a crown requires more than one dental visit. On the first appointment, we remove some of the natural tooth material so that a crown can fit into your bite. If you require a root canal, we continue with that procedure; otherwise, we install a temporary crown to protect your tooth while your restoration is created. Once the permanent crown is ready, we bring you in for another appointment to remove the temporary crown and install the custom-made one. Before you leave, we'll provide you with care instructions to ensure your crown lasts you for many years.
When Was Your Last Visit?
Book Your Dental Appointment Today