Dental Veneers in Mississauga
Dental Veneers Near You in Mississauga
Originally used to dramatically change the appearance of teeth for the film industry, veneers have advanced over the decades to become a popular cosmetic dental solution for just about anyone. Veneers are used to both improve the appearance of teeth and reinforce cracked or fractured teeth. This long-lasting procedure can also enhance the colour, size, and shape of your natural teeth, making it a great option for those who are looking for a complete smile makeover.
A Natural-Looking Solution to Tooth Discolouration
Veneers are a permanent alternative to teeth whitening treatment. Veneers are made from porcelain or composite material designed to resemble your teeth's natural shade. Once installed, veneers feel like the real thing and look even better. When taken care of, veneers can last for many years before needing replacement. In addition to creating beautiful, white smiles, veneers also correct minor alignment issues and strengthen cracked or fractured teeth.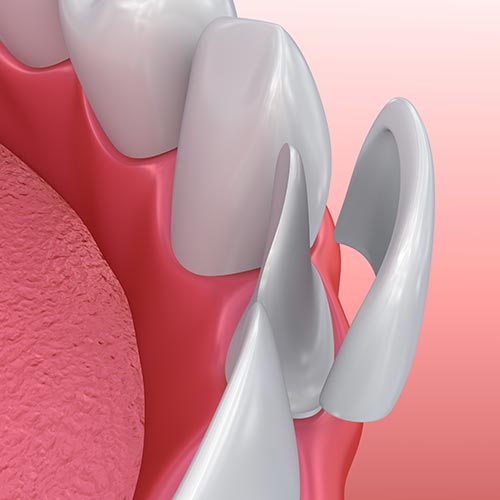 Veneers Provide More Than a Beautiful Looking Smile
The ultra-thin shell of a veneer is bonded directly to the front of the tooth using a strong resin adhesive. Little anesthesia is required for this procedure, but the process may require several appointments. Veneers are custom-made for your teeth at a dental laboratory and require some time to manufacture before they can be applied. On your first visit, we'll prepare your teeth, take impressions for the lab, and adhere temporary veneers to your teeth. Once the veneers are ready, you'll come back to switch out the temporary veneers for the permanent ones.
When Was Your Last Visit?
Book Your Dental Appointment Today