9th Line Dental
Your Family Dentist in Mississauga
Patient Comfort
At our dental office in Mississauga, we are committed to creating a safe and comfortable environment where patients feel at ease.
Patient Education
We prioritize educating our patients so they understand treatments and are able to make informed decisions
Welcoming Environment
At our dental clinic in Mississauga, we provide a family-friendly environment that shows we genuinely care about our patients.
Friendly and Personal Dentistry Near You
Welcome to 9th Line Dental, where we combine our comprehensive experience and up-to-date technology to provide friendly and personalized dental service to the Mississauga community. We are in the business of beautiful smiles and long-term oral health. New patients of all ages are always welcome. We look forward to seeing you in our dental office!
Our Dental Practice
We are committed to providing friendly, quality care at every dental visit. This starts from the moment you walk into our warm and bright Mississauga dental office and are greeted by our welcoming staff. Our dentists and dental professionals take the time to get to know you, answer your questions, and explain what we are doing and why it is essential to your health. We encourage you to keep your whole family up to date on oral examinations and dental hygiene appointments so that we can keep an eye on your long-term oral health and keep you smiling!

Family & General Dentistry
Services For The Whole Family
We offer a full range of dental services to meet the needs of all our clients in one convenient, central location in Mississauga.
Our dentists are experienced in treating patients of all ages and at all stages of oral health. We value your trust, which is why we take the time to explain all procedures and answer your questions or concerns. We aim for excellence in everything we do, so whether you're a new patient or you've been with us for decades, you know we are committed to your health at every appointment.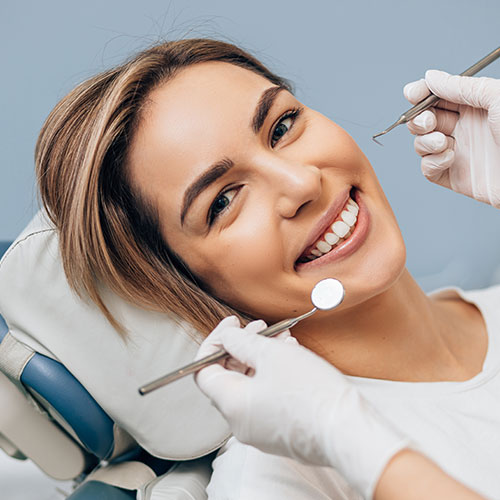 In The Heart Of Your Community
We are centrally located at Lisgar Neighbourhood Square at Ninth Line and Doug Leavens Blvd. in Mississauga, Ontario. There is plenty of free parking available and we are easily accessible from the 407 highway. Our dental office is open Monday through Saturday, with evening appointments available on Tuesdays and Wednesdays for your convenience.
When Was Your Last Visit?
Take Care Of Your Oral Health & Book Your Dental Hygiene Appointment Today